We're global leaders in virtual & hybrid experiences and are passionate about helping companies to engage their remote teams & communities.
Over 1,000 companies across the world now trust us for their team socials, client events, Christmas parties & much more.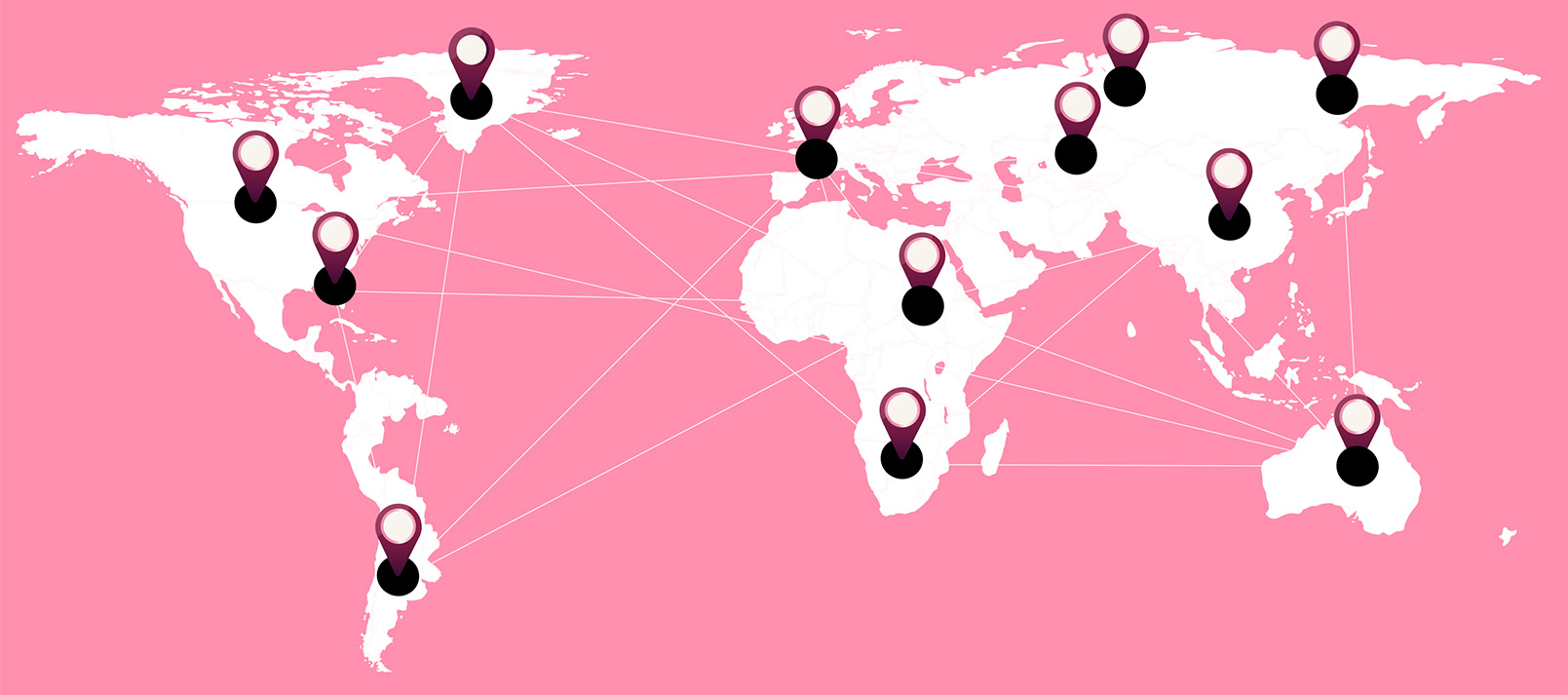 Increasingly virtual experiences are taking place inside working hours
The majority of virtual events take place inside of work hours and this has become more common over time, reflecting the trend for employers to be more considerate of work-life balance. It also shows companies beginning to understand the best times to run events for the best attendance.
The best attendance rates were seen on Fridays inside working hours with Tuesdays inside working hours second best.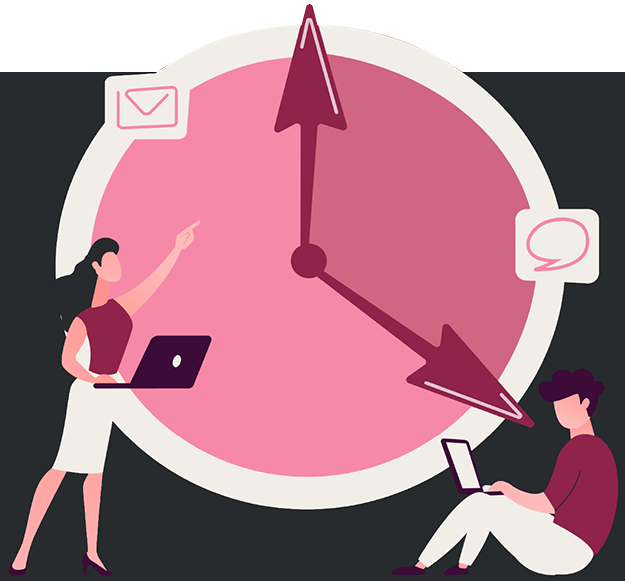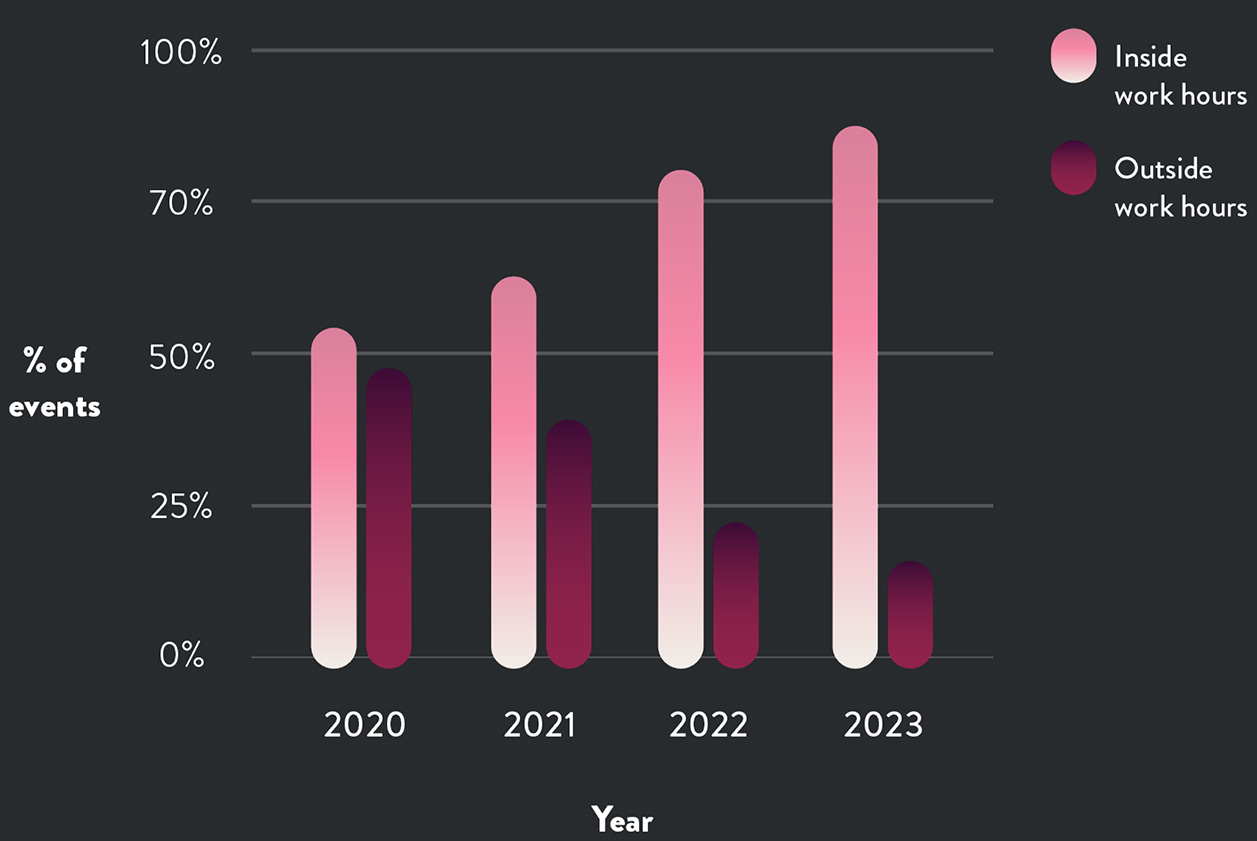 Team building is
 increasingly the main
 reason that companies
 book virtual experiences
Team building is becoming more and more important for remote and hybrid companies. Over the past years, the percentage of experiences booked specifically for team building has increased steadily, levelling off at close to 85%.
As many companies become accustomed to new ways of working, they have had to find ways to connect distributed teams. Increasingly companies are looking for team-building events that drive specific outcomes such as improved collaboration and improved inter-team connectivity.
The growth in importance of team socials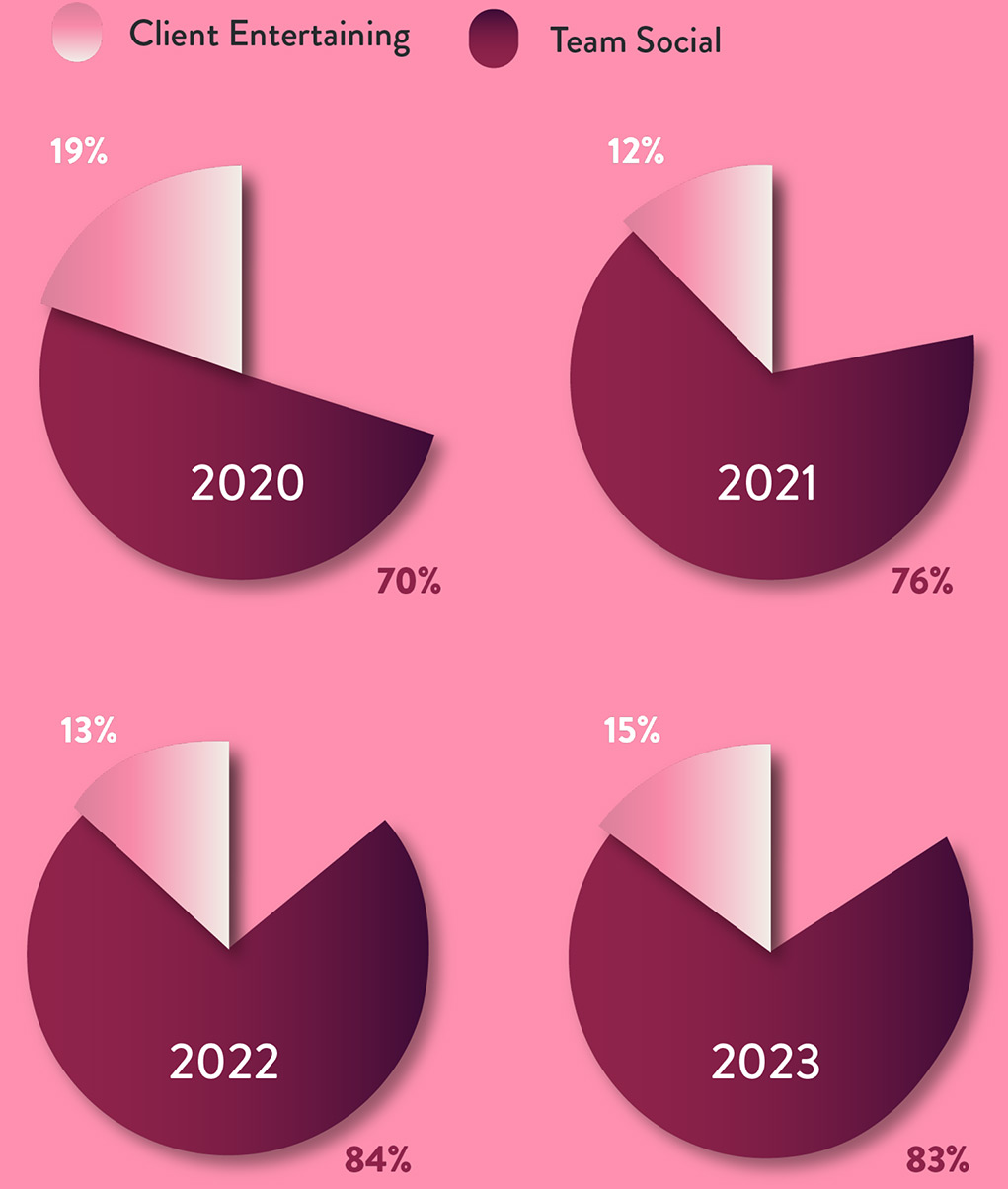 The most popular
 experiences are escape
 room and challenge based
Escape Rooms and Challenges are the most popular types of experiences to be booked followed by immersive acts and shows.
Challenge-based activities have rapidly grown in popularity as they offer one of the best ways for groups to network virtually. This trend has been driven by the growing focus of companies on team building.
This is neatly shown by comparing the % of cocktail-making events to Escape Rooms and Challenges. In 2020 they both made up 24% each of all events. By 2023 Escape Rooms & Challenges had doubled to make up 48% of all events whereas Cocktail Making events had shrunk 4-fold to just 6% of all events booked.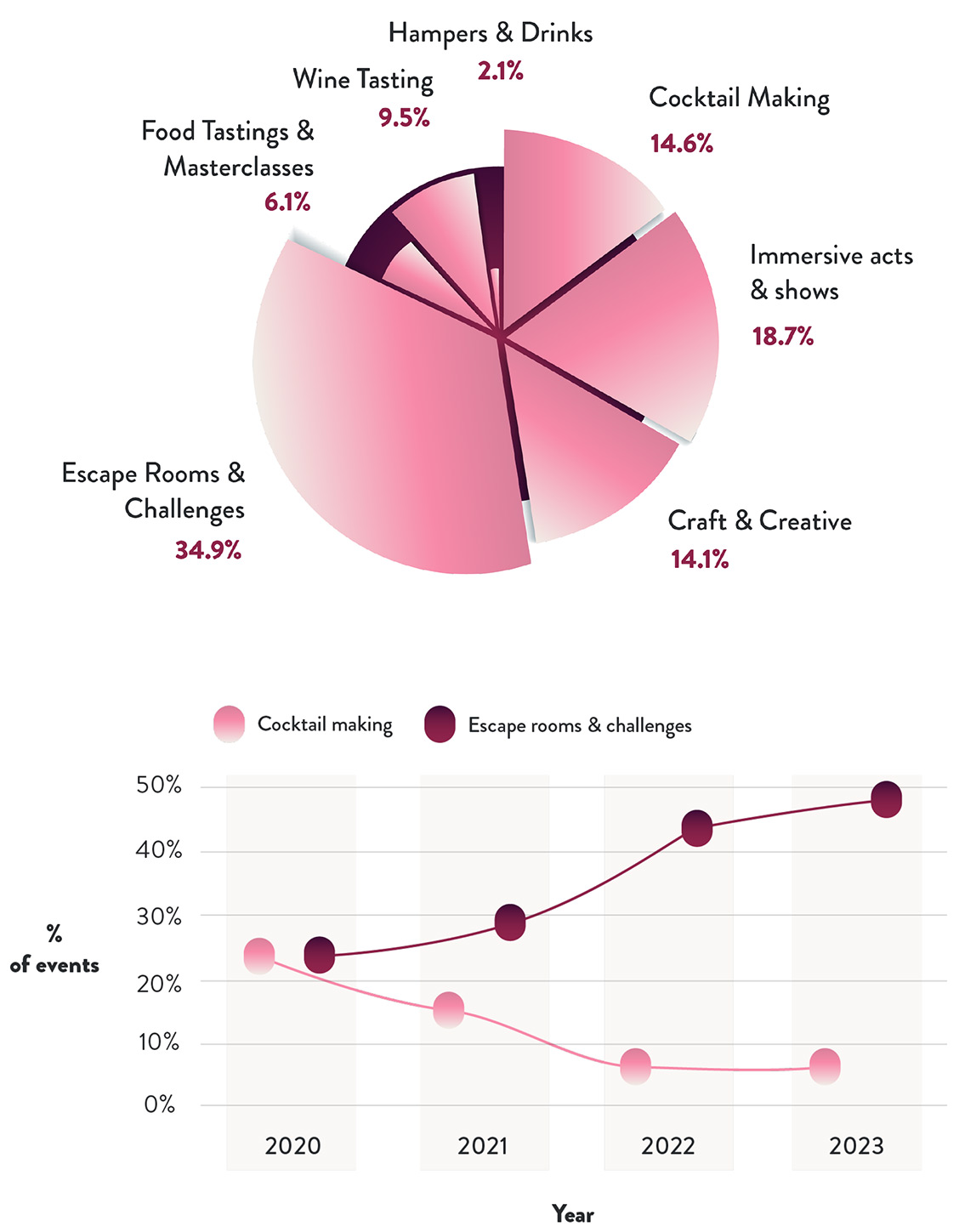 The presence of alcohol at virtual events has decreased rapidly
Events involving alcohol have reduced from a hefty 45% of all experiences in 2020 to just 15% in 2022 and 14% so far in 2023.
This is further evidence of an increasing focus of companies on team building beyond the loose and traditional after-work drinks as well as reflecting a drive for inclusivity, ensuring engagement from those who do not drink.
Virtual experiences also benefit from allowing companies a huge array of choices whereas in-person experiences are more likely to be limited to the options immediately available close to the office, allowing for more interesting experiences beyond a trip to a local bar.
The impact of the pandemic can also be seen in the early years' figures when traditional company socialising, often involving alcohol, moved online.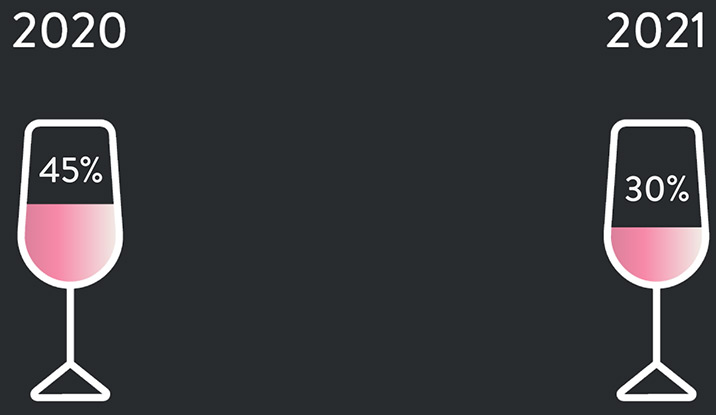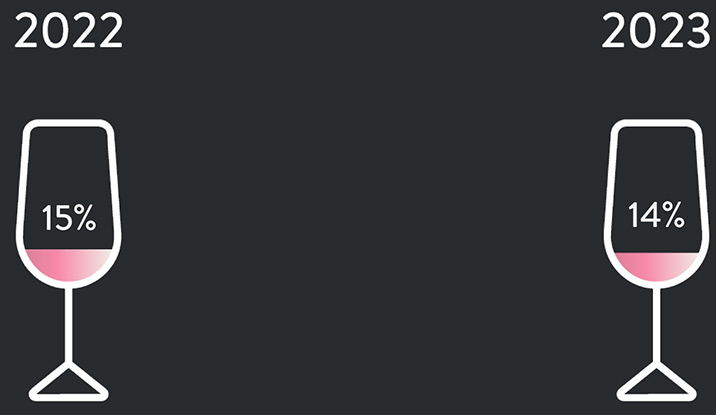 Thursdays are the most popular day to run a virtual experience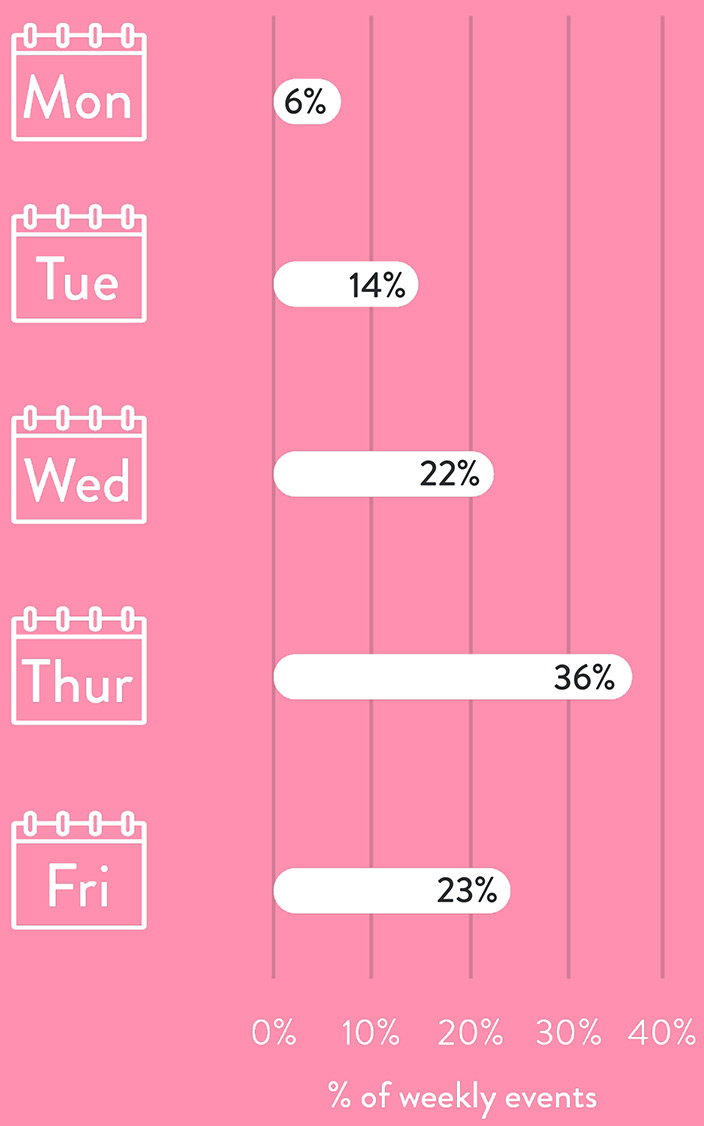 Thursdays are the most popular day for virtual events to be run with 36% of events taking place
 on a Thursday. Friday is the next most popular
 with 23% and Wednesday a close third with 22%.
Overwhelmingly, Zoom is the most popular platform. It's used on 88% of events.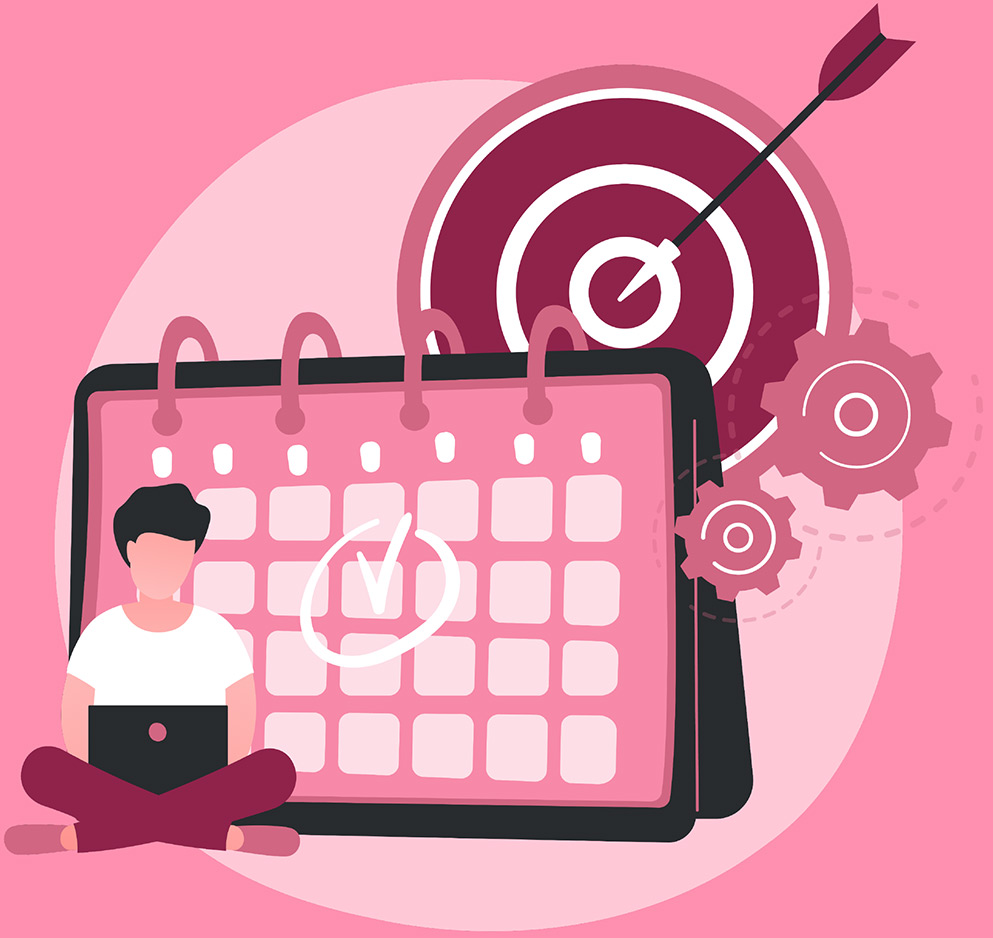 Virtual experiences are having a positive effect on employees
20% more productive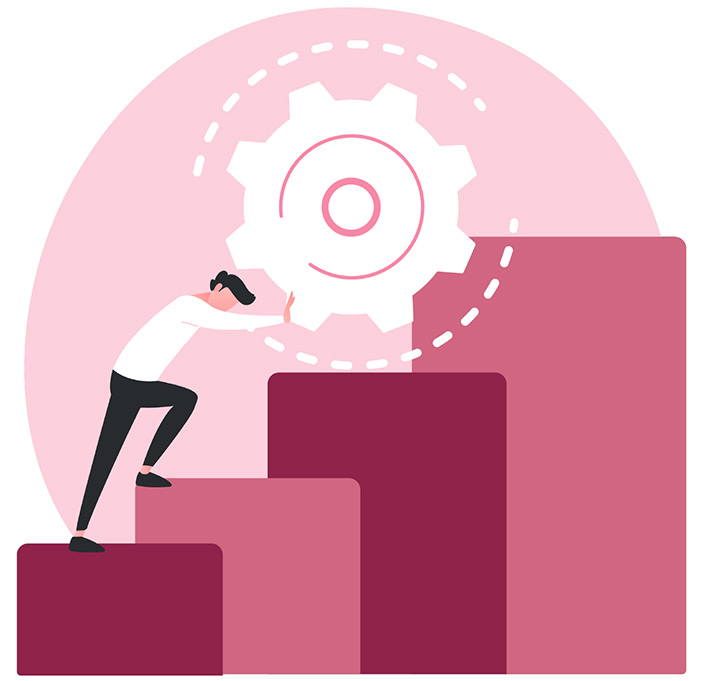 15% less likely to leave their job
83%
of respondents strongly agreed that virtual events improved employee engagement
80%
of respondents strongly agreed that virtual events improved employee mental health
Virtual events are a great way to reduce a company s carbon footprint
Virtual events are significantly more carbon efficient than in-person events. According to a study by the University of Michigan, virtual events can reduce carbon footprint by up to 94% and energy use by up to 90%. The exact measure of carbon saving is highly dependent on a range of factors such as whether the virtual event features deliveries to guests and whether additional journeys were made to attend an in-person event.
So whilst the exact figures vary virtual events are certainly an excellent tool for carbon conscious companies.
reduce the carbon
footprint by
up to 94%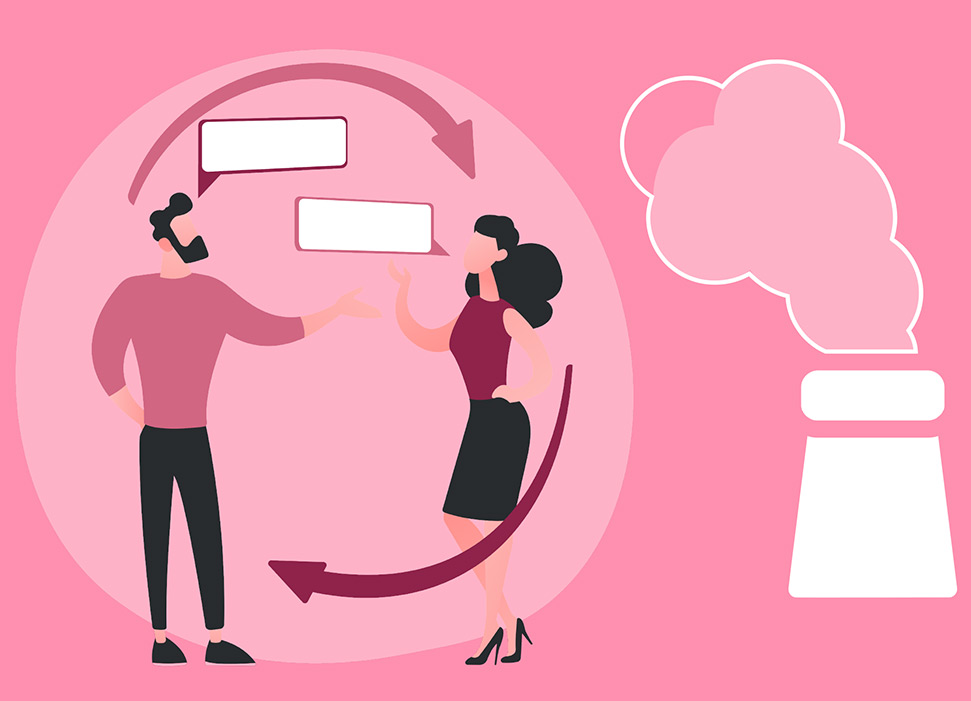 A typical in person

event generates:
960kg carbon
A typical virtual event

(with deliveries) generates:
96kg carbon